In a world where social media reigns king and reality TV reigns queen, its easy to give our attention to people and situations that don't really matter. Let's put our critical thinking skills and abilities to serve others to good use, because TALK IS STILL CHEAP!!
Tuesday, February 23, 2010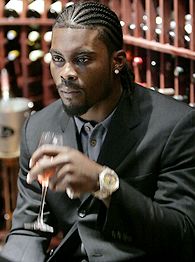 I figured he paid back society for dog fighting, but what about the animals?" said Daniel.
Daniel Nardicio, is a rep for Playgirl Magazine.  Playgirl has offered Michael Vick $1 million to pose naked.  However the proceeds will be donated to PETA (an animal rights group) on his behalf.
As you may know already, Michael Vick was sentenced to 19 months in prison on charges of Dog Fighting.  He, along with several childhood friends, started and maintained a dog fighting operation known as the "Bad News Kennel".
However, Vick has served his time and is now out as a free man, and once again on the football field playing with the Philadelphia, Eagles.
The Playgirl spokesperson stated that this would be a "win-win" situation for Michael Vick since he would be donating such a large amount to PETA, and all he has to do is pose naked.
What do you think?  Endangering and taking the lives of several animals was harsh, but are we now to assume he has NO MORALS at all?  Who is to say he wants to share his naked body with the world?  The guy has already exposed his soul and his private life by admitting to his crimes and now airing a reality series following his life after he was released from prison.
As of now, Vick has not responded to the invite.  Do you think he should do it?  Should this be how he pays his "debit" to the "animal world"?  Is his current crusade to travel the world and speak on behalf of discontinuing animal cruelty (as seen on his reality series) not enough?
What more can you ask for? Who is really winning?
COMMENTS
Posted by

TalkstillCheap.com
at 9:34 AM
No comments:


Monday, February 22, 2010
"Boo Season", "Boo Thang", "Sidechick", "Sideguy", "Splackaveli", "Mistress", "Do Boy", "partner", "friend guy/girl", "open relationship", "complicated".... you can keep all that!!!
February, the MONTH OF LOVE!! I've written about the existence of "true love" before but more often than not, we hear of infidelity, divorce, and playing the field. We have prominent, talented, beautiful people that are happily in a relationship but UNMARRIED. If you're like me, still have that childhood dream/vision of your perfect Wedding day but first meeting that perfect mate, its kind of contradictory when we have these other images going against the traditions we were raised on.
So, when you find inspiration that still gives you hope, you must share with me, as I will you. IN honor of the month of LOVE & Black History Month, I like to introduce to some and present to others, the longest married couple in the world. Honestly, a lot of people do not live to see the age of 85, but Herbert and Zelmyra Fisher have been married for that long, and approaching another year May 13, 2010.
The couple resides in North Carolina, and have lived in their same home, which Herbert built, for over 50 years. Herbert is 104 years old and Zelymyra is 101, don't they look GOOD?
"There isn't any secret. It was only God that kept us together."
The two have maintained membership at two different and separate churches. The Mrs. belongs to an A.M.E. denomination, while the Mr. is Baptist (Who says it can't be done). They attribute some of their longevity to just living a simple life, they worked hard and paid for the college education of all 5 of their children. Mrs. Zelmyra stated that she goes through life just trying to "treat everybody right", and she knew she "wasn't going to be looking for another husband".
Thats what I'm talking about...like when I took the LSAT for the second time, I said I wasn't going to take it again & IM NOT!!
Marriage can still be achieved with dignity and longevity. I BELIEVE! DO YOU?
COMMENT
Posted by

TalkstillCheap.com
at 12:00 AM
2 comments: