In a world where social media reigns king and reality TV reigns queen, its easy to give our attention to people and situations that don't really matter. Let's put our critical thinking skills and abilities to serve others to good use, because TALK IS STILL CHEAP!!
Tuesday, February 23, 2010
Michael Vick NAKED for the DOGS!!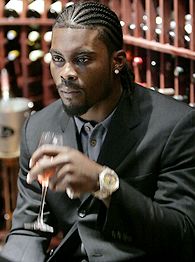 I figured he paid back society for dog fighting, but what about the animals?" said Daniel.
Daniel Nardicio, is a rep for Playgirl Magazine.  Playgirl has offered Michael Vick $1 million to pose naked.  However the proceeds will be donated to PETA (an animal rights group) on his behalf.
As you may know already, Michael Vick was sentenced to 19 months in prison on charges of Dog Fighting.  He, along with several childhood friends, started and maintained a dog fighting operation known as the "Bad News Kennel".
However, Vick has served his time and is now out as a free man, and once again on the football field playing with the Philadelphia, Eagles.
The Playgirl spokesperson stated that this would be a "win-win" situation for Michael Vick since he would be donating such a large amount to PETA, and all he has to do is pose naked.
What do you think?  Endangering and taking the lives of several animals was harsh, but are we now to assume he has NO MORALS at all?  Who is to say he wants to share his naked body with the world?  The guy has already exposed his soul and his private life by admitting to his crimes and now airing a reality series following his life after he was released from prison.
As of now, Vick has not responded to the invite.  Do you think he should do it?  Should this be how he pays his "debit" to the "animal world"?  Is his current crusade to travel the world and speak on behalf of discontinuing animal cruelty (as seen on his reality series) not enough?
What more can you ask for? Who is really winning?
COMMENTS
Posted by

TalkstillCheap.com
at 9:34 AM